Now Offering DJ Services!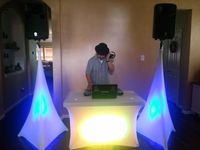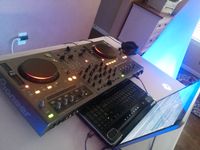 Rebecca Peña- vocals and percussion. With broad musical experience and a powerful range Rebecca has performed in popular bands at clubs and venues throughout the DFW area. Her past performances include the Frisco Freedom Fest 2007, 2008 and 2009, the Plano Balloon Festival, and the Arlington Fall Festival at Levitt Pavilion. Rebecca has an incredible talent of singing a variety of styles, from R&B, pop, classic, Latin, and Christian contemporary music. Rebecca delivers an electric performance that energizes and captivates her audiences and creates a musical experience for everyone to enjoy.

Damon Castillo- vocals, guitar, harmonica and percussion. "The Crooner" has performed in various bands and vocal groups for 30 years and has belted out rock staples from Stones to Steppenwolf in clubs, at balloon festivals and other events around Texas. He has been a regular along with his classic rock band at corporate functions such as the Raytheon open house events in Plano and Greenville Texas. He readily admits however that he learned some of his best licks in church, singing gospel and contemporary Christian music. His silky-smooth tenor voice has provided live support for notable Christian artists.

René Peña- keyboards and vocals. René has an incredible talent and masters the keyboards with amazing skill. He has extensive musical training and a long resume of performing in various venues in the DFW area, Dallas radio stations, and WFAA and KFWD Television. In addition to touring with Rob Dixon and other artists throughout the US, Rene has produced, arranged and directed various recording projects with well known local personalities. The musical director of his church in the White Rock Lake area and very well respected in the musical industry, Rene' is considered by his colleagues as one of the finest musicians in the DFW area.